Instructor Profile 
Senior Instructor Sen Do Kai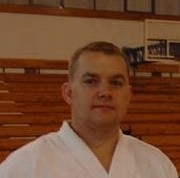 3rd Dan Yoshinkan Aikido
Coach
Sensei Thiel began practising Yoshinkan Aikido in September 1995, under the guidance and tuition of Sensei Terry Harrison. Over the years he has accumulated an extensive knowledge of Yoshinkan Aikido, other styles of Aikido and Jujitsu. He has attended seminars with high ranking Sensei, also instrumental in demonstrations for: Terada Saikokomon 9th Dan, Inoue Hanshi 9th Dan and has been a party to many of the Kancho Gozo Shioda Memorial seminars in the UK to date.
He has made the effort to visit as many high ranking Sensei that he can; in order to practice under the guidance of the high ranking Honbu Sensei from Japan; including Terada Saikokomon, Inoue Hanshi, Chida Shihan in Poland, Ando Shihan, Sensei Robert Mustard on many occasions, in order to further his knowledge of Yoshinkan Aikido over the coming years. He is a Senior Instructor for the Sen Do Kai Aikido Group based in the London Hertfordshire and Surrey areas since 2000 to date. Sensei Thiel assists Sensei Harrison at  his Dojo and also ran a Club in the Harrow Leisure Centre for a couple of years with an associate Instructor Sensei John Reynolds.
Tom is now a Senior 3rd Dan Senior Instructor within the group and was Graded by Ando Sensei at the Sendokan Dojo on the 25th August 2008 during Sensei's visit to England.