Sen Do Kai Aikido Yoshinkan UK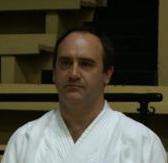 Chief Instructor and founder – Sen Do Kai Group – Yoshinkan Aikido (England)
Chief Instructor – Sendokan Dojo – Yoshinkan Aikido (England/Japan)
6th Dan Aikido Yoshinkan Instructor (Japan/England)
4th Dan Aikido – Traditional Ueshiba Aikido (England)
1st Dan – Shudokan Aikido (England 1983 Soke Stratton)
Senior Coach (BAB) Coaching for Children (BAB)
Sensei Harrison began practising Yoshinkan Aikido in August 1978, under the guidance and tuition of Sensei John France.
His other Sensei from 1978 – 90′s have included; Sensei David Thompson, Shihan David Eayres (founder of Ken Shin Kai Organisation), Shibucho Tony Yates (founder of Yoshinkai Organisation) and Soke Ted Stratton (founder of Shudokan Institute of Aikido) also; who were original founder members of the British Aikido Board.
Over the years Sensei Harrison has accumulated an extensive knowledge of Yoshinkan Aikido and other styles of Aikido.
In addition to this, he received specific tuition from; Terada Saikokomon, Inoue Hanshi, Chida Shihan, Francis Ramasamy, Yasuhisa Shioda Hanshi (who taught him whilst here in England in the 1980′s), Ando Shihan and Shihan Morihiro Saito.
Sensei Harrison is also practised in; Judo, Karate, Wing Chung Kung – Fu, Tae-Kwon-Do, Iaido, Jujitsu and Lion Style Kung Fu, of which sections from each are still incorporated in his self-defence applications.
He has choreographed, displayed and demonstrated Yoshinkan Aikido to the following organisations: the London Science museum, the Hertfordshire Police, Surrey Constabulary at Hampton Court, the British Aikido Board, for Terada Saikokomon, Inoue Shihan, Takeno Shihan, Kai Kuniyuki Shihan, Ando Shihan, Sonoda Shihan, Sensei Josette Nickels Aikikai in Fontenay-Aux-Roses France (on many occasions), the University of Bath and at Mill Hill Public School.
Sensei Harrison visited the Honbu Dojo in 1999 (Japan Tokyo), to practice under the guidance of the Inoue Shihan and high ranking Honbu Sensei, to extend his knowledge of Yoshinkan Aikido, in order to progress and to disseminate the techniques through his fellow Instructors and students. He has also reciprocated this visit by continuing to host to senior Aikido visitors to England including;
Kai Kuniyuki Shihan, Francis Ramasamy Shihan, Ando Shihan who officially opened and named Sensei Harrison's Dojo 'SENDOKAN' in August 1994, Sensei Payet and Kancho Yasuhisa Shioda.
He is the Chief Instructor of the Sen Do Kai Yoshinkan Aikido UK Group/s in the surrounding areas of London, Hertfordshire and Surrey. These Dojo were in existence from the 1970′s and have been continued on by Sensei Harrison since 1983 to date. The Sen Do Kai Yoshinkan Aikido Group (of which he is a founder member), elected him as Chief Instructor to lead the group to continue the spread of Yoshinkan Aikido. The continued link with other Yoshinkan Aikido organisations/groups in England and now world wide is the main objective of our group, as we have a directive to visit as many other Dojo in England and to attend seminars where Yoshinkan Sensei are visiting different countries, wherever possible.
In his time as Branch Chief Instructor (from 1985 – 2008), he assisted the Ken Shin Kai Aikido Organisation by establishing them as an Independent Yoshinkan Aikido Organisation. This was recognised by the International Yoshinkan Aikido Federation (IYAF) in Japan at that time.
Sensei Harrison is currently ranked as; 6th Dan Aikido Yoshinkan Instructor April 2012, he was graded by Terada Saikokomon 9th Dan Yoshinkan to 5th Dan (who was Chief Consultant to Yoshinkan Aikido Japan), on 15th April 2002, at an International Yoshinkan Aikido Seminar hosted by Ken Shin Kai, along with: Sensei Amos Parker, Matsuo Sensei and Chizuko Matsuo Sensei.
He received his 5th Dan and Instructor certificates direct from the Honbu Dojo Japan, authenticated by Terada Saikokomon and Chida Shihan. [He originally received his 4th Dan and Instructor certificates direct from the Honbu Dojo Japan, authenticated by Kancho Gozo Shioda and Ando Shihan].
He has been loyally supported in his role as Chief Instructor, by his Senior Dan grades/Instructors; Sensei Simon Hill, Sensei Rod White, Sensei Tom Thiel, Sensei John Reynolds and Francis Blackmore (New York & Hong Kong Dojo's). In addition to this they have been his personal Uke's at many Aikido seminars, demonstrations and teaching events, both in England and world wide. One of our Dan grades; Rob Argent-Wenz is his personal Uke since September 2007, alongside Kyu grades from the Instructor course.
Sensei Harrison has close connections with other high ranking Aikido Sensei; Sensei Ando Shihan (Yoshinkan Aikido Ryu Japan), Shihan Richard Portsmouth (Traditional Ueshiba Aikido), Sensei John Jenkin (Koshinkan Aikido), Sensei Josette Nickells (Aikikai France), Sensei Roger Payne (Mid Sussex Martial Arts Society) and Shirley Timms (BAB) but to name a few, with many other Aikido and Martial Art groups that have historical and friendly connections still. He greatly appreciates their added support and camaraderie both in the continued development of his own Aikido, also more importantly their long-term friendship and Budo.
Sensei Harrison also had connections with Shihan Thomas H Makiyama (Kenjitsukai Aikido Japan) who sadly passed away in 2007, his letters and e-mail discussions are sadly missed.
Terry Harrison and Photo taken at the original Honbu Dojo Japan (centre) Kancho Gozo Shioda's statue
Chida Shihan, Terry Harrison, Kancho Gozo Shioda Bust, Takeno Shihan and Sonoda Shihan (May 1999)